Breaking the Cycle of Frozen Pipes and Ice Damming Issues in Montrose Homes
12/15/2021 (Permalink)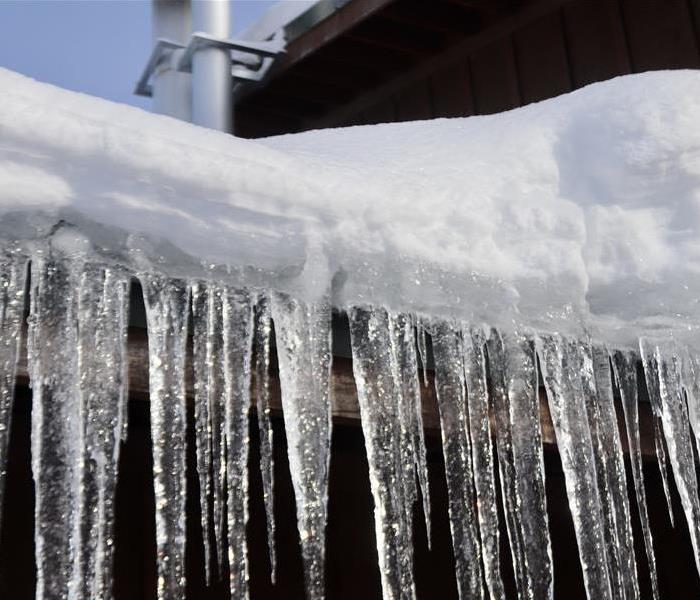 When water damage strikes, give SERVPRO of Montrose / Telluride a call. We are here to fully assist you.
SERVPRO Can Implement Stopgap Measures or Make Changes That Deliver Long Term Results
Enduring the inconvenience of frozen pipes and ice damming each winter can leave you feeling drained and your pockets empty. Therefore, finding a long-term solution is essential to safeguard your Montrose home and help you focus on other things or simply enjoy the comfort your home offers.
When thinking of a solution to frozen pipes and ice damming in your Montrose home, you should start by evaluating the situation to determine the best approach. For instance, SERVPRO can use simple solutions to prevent pipes from freezing as a stopgap measure.
Three simple methods that prevent pipes from freezing include:
Draining water lines
Keeping pipes warm
Using hot water recirculation devices
Since water rapidly expands when it freezes, a simple solution to mitigate its effects is ensuring pipes are empty or maintaining temperatures above the freezing point. Opening faucets, especially those leading outside the house, limits the freezing risk. Keeping the water in the pipes warm is also a viable short-term solution. Installing a hot water recirculation device through one of the existing faucet supply lines in the house guarantees this. Alternatively, insulating exposed pipes can help slow down the loss of temperature and thus limit the chances of freezing.
Short-term measures may eliminate the risk of freezing but require hands-on management, which may not be practical. Finding a long-term solution is essential for frozen pipe issues as well as ice damming. Better insulation of the structure is a formidable solution. Our SERVPRO technicians can help evaluate your house to determine whether pipes are exposed, or the ceiling is fully insulated.
Other long term approaches to fix freezing issues include:
Caulking around vent pipes and electrical cables
Ventilating the ridge and eaves
Sealing and insulating ducts
SERVPRO of Montrose / Telluride provides solutions to frozen pipes and ice damming tailored to match your needs. You can reach us at (970) 240-6970. We're Faster To Any Size Disaster.